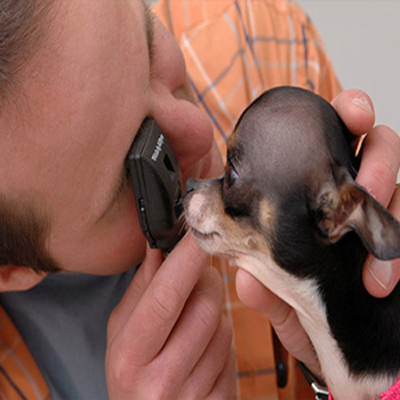 Here are some guidelines on selecting a veterinarian:
Concern for the animal. A friend of mine in Chicago told me that she chose her vet because he always greeted her dog first when she went to his office. Simple though that is, it meant a lot to her that he did that. But don't be taken in simply by a good bedside manner if your instincts tell you that something is not right. Will your vet's advice always center on the well-being of the animal?
Willingness to listen, to answer questions, and to communicate easily. As someone who is new to taking care of a pet, you want to feel able to ask your vet anything and have her give you just the right amount of information to help you do your job.
Kindness and patience. If you are a new mom or dad to an animal, you are going to need to know the basics. Your vet should be able to walk you through these without making you feel like an idiot.
Professional skills. Does your vet keep up with the latest developments in the veterinary field that will help your animal?
Accessibility. Will she be available, especially in a crisis?
Generous nature. Are you just a money machine for your vet's office? You want to feel as if they are taking into account your costs, especially if you are in rescue work and are bringing in a lot of animals.
Love of animals. Surprisingly, many people choose to become vets not because they love animals, but simply as a way of making a living. Does your vet have animals at home? Is he warm and comfortable around your animals when you bring them to the clinic?
Referral from a friend. This can be a good way to find a good vet, but remember, just because the referral came from a friend does not mean that friend has done his research. Again, if something does not feel right, find a vet on your own.
This is by no means an exhaustive list, but hopefully it will help you to pinpoint the right person for you and for your animal. Our animals give us so much that the least we can do for them is to find the best doctor around.
For some additional tips, read the article "Finding a Veterinarian" on the website for the American Veterinary Medical Association.
written by Faith Maloney
...
Read More